The Philippines, with its unique geography and susceptibility to typhoons, has a long-standing history of devastating floods.
Nestled in the Pacific Ring of Fire and the typhoon belt, this archipelago experiences an average of 20 typhoons annually, making it one of the most flood-prone countries in the world. From its bustling cities to its serene rural landscapes, the nation has witnessed the destructive power of floods time and again. Let's delve into the top five deadliest floods in recent Philippine history, where stories of tragedy and triumph unfolded amidst the torrential waters.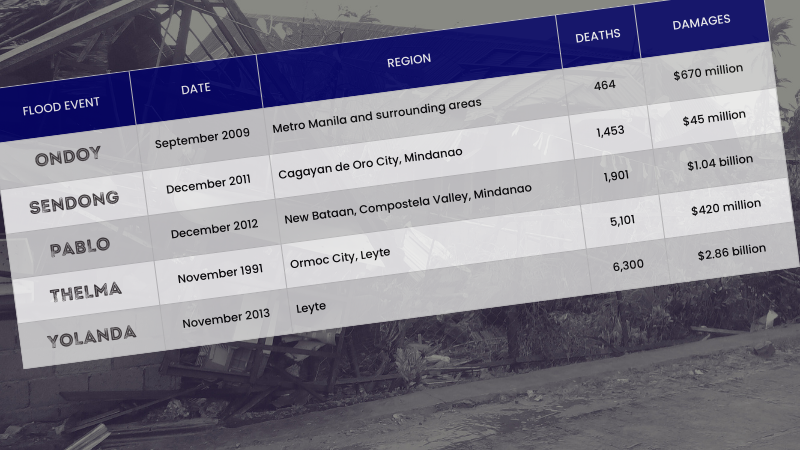 1: Tropical Storm Ondoy | September 2009

Death Toll: 464
Region: Metro Manila and surrounding areas
Damages: Approximately $670 million
In Marikina City, a group of fishermen turned heroes risked their lives to rescue stranded residents from rooftops. Braving the raging currents, they formed a human chain, pulling people to safety one by one. Their acts of selflessness and courage demonstrated the power of unity and community in times of crisis.
2: Typhoon Sendong | December 2011
Death Toll: 1,453
Region: Cagayan de Oro City, Mindanao
Damages: Approximately $45 million
Amidst the chaos and devastation, a young boy named John Mark clung to a floating refrigerator for survival. In the midst of the floodwaters, he found strength and resilience, becoming a symbol of hope and inspiration for the entire nation.
3: Typhoon Pablo | December 2012
Death Toll: 1,901
Region: New Bataan, Compostela Valley, Mindanao
Damages: Approximately $1.04 billion
In the town of New Bataan, residents banded together in a remarkable display of solidarity. Forming a human chain, they braved the raging river to rescue their trapped neighbors, showcasing the indomitable spirit and unwavering compassion of the Filipino people.
4: Typhoon Uring (Thelma) | November 1991
Death Toll: 5,101
Region: Ormoc City, Leyte
Damages: Approximately $420 million
In the midst of the devastating flood, a young girl named Gina clung to a floating log for over 24 hours. Her unwavering determination to survive against all odds symbolized the strength and resilience of the Filipino spirit in the face of overwhelming adversity.
5: Typhoon Haiyan (Yolanda) | November 2013
Death Toll: 6,300
Region: Leyte
Damages: Approximately $2.86 billion
Tacloban City bore the brunt of Typhoon Haiyan's wrath. In the midst of the destruction, the Panis family opened their home to neighbors seeking refuge from the rising floodwaters. Their selfless act of kindness and quick thinking saved 11 lives, providing a beacon of hope amidst the darkest hour.
As we reflect on the top five deadliest floods in recent Philippine history, we are reminded of the profound impact these disasters have had on communities across the nation. The propensity of the Philippines to flood, coupled with the relentless onslaught of typhoons, has shaped the country's resilience and tested the spirit of its people. Through these tales of tragedy and triumph
---
Sources:

Philippine Atmospheric, Geophysical and Astronomical Services Administration (PAGASA)
News articles and reports covering each specific flood event