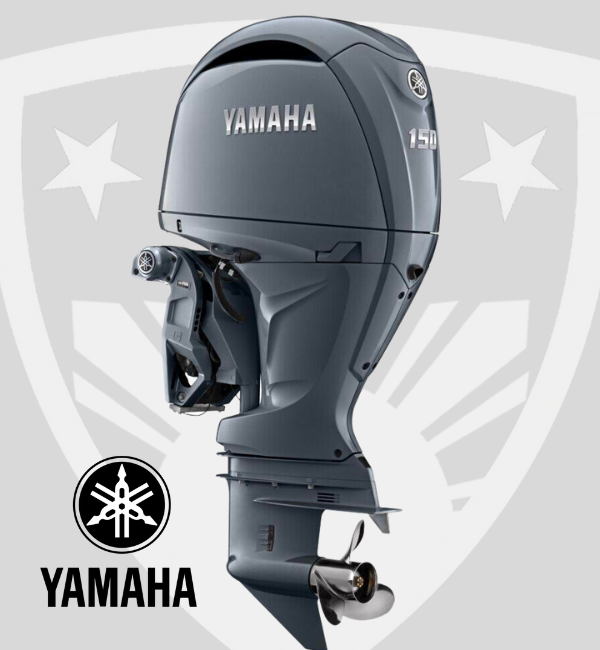 150HP YAMAHA OUTBOARD MOTOR – ELECTRIC START, FOUR-STROKE, EXTRA LONG SHAFT 25"
1 Unit Model: F150DETX, Electronic Fuel Injection ( EFI), Standard Rotation, Double overhead camshaft, 16 valve, four cylinders in line, built in power trim & tilt assy., Brand new, complete with the following accessories such as: remote control box with wiring harness assy - side mount | Digital network Gauge - Tachometer/Speedometer | SST Propeller | Battery cable | Owner's manual
---
For more than 30 years, Yamaha Outboards have delivered far more than superior power, performance and efficiency.
---
Share this product:
Yamaha Four Stroke 150HP Outboard Engine
Whether venturing offshore or sticking to the rivers and bay, the extremely versatile F150 offers the perfect match of power, efficiency and reliability.
The F150 was Yamaha's first outboard in the big four-cylinder category and since this time has achieved a legendary reputation for its responsive performance, outstanding reliability and exceptional fuel economy. With its narrow four-cylinder inline configuration, the F150 is also a perfect solution for compact twin outboard installations, with a counter rotating prop option available.


YAMAHA 150HP Outboard Engine Features

2600cc Four Cylinder Engine
The 16 valve, 2.6 litre double overhead camshaft layout with its increased cylinder capacity and large valves, results in optimum valve actuation, for better valve timing control. Four valves equipped on each cylinder improve the intake and exhaust efficiency and deliver improved acceleration and performance.
8-Tooth Dog Clutch
A tough "dog clutch" replaces the previous 6-tooth version for smoother, trouble-free shifting and longer life.
Four Individual Throttle Valves
The four individual throttle valves precisely and responsibly send intake air to the combustion chamber for excellent performance.
High Output Alternator
The new alternator delivers 36 amps at wide open throttle, producing a full 28 amps at only 1,000 RPM which means there is sufficient output to keep charging the battery even at low RPM. Includes a dual battery charging system.
Multi-Point Electronic Fuel Injection
The Multi-Point Electronic Fuel Injection (EFI) system, injects the right amount of fuel into the combustion chamber at the optimum timing, for 'first-time, every-time' hot and cold starting, improved fuel efficiency, excellent throttle response.
Offset Crankshaft
The crankshaft design is offset 5mm from the centre of cylinder for more efficient transfer of power to the crankshaft.
Power Trim And Tilt
Yamaha's push-button trim control makes engine trim and tilt adjustments quick, smooth and easy, across a wide trim range. The negative trim settings allow for improved acceleration and the ability to bring the boat onto the plane more quickly.
Shift Dampener System
Yamaha's Shift Dampener System (SDS), built into selected Yamaha propellers, delivers smooth and quiet operation when shifting in and out of gear by absorbing the force that is created.
Variable Trolling Control
The skipper to precisely adjust the engine's idling speed from 600 to 1000 RPM in 50 RPM increments. The ability to finely tune the trolling speed allows fisherman to perfect their lure presentation when chasing different species of fish
| | |
| --- | --- |
| Horsepower | 150 HP |
| Stroke | 4 Stroke |
| Transom Height | Extra Long Shaft |
| Engine Control Type | Remote Control Type |
| Engine Start Type | Electric Start |
| Power Trim | Electric Trim, Tilting |